Playing with the
material editor
: Posted by www.cg-blog.com
The scene is just a
Torus Knot object
with V-Ray Sun + Sky. Nothing more.
Here a screenshot to show you how I set this material: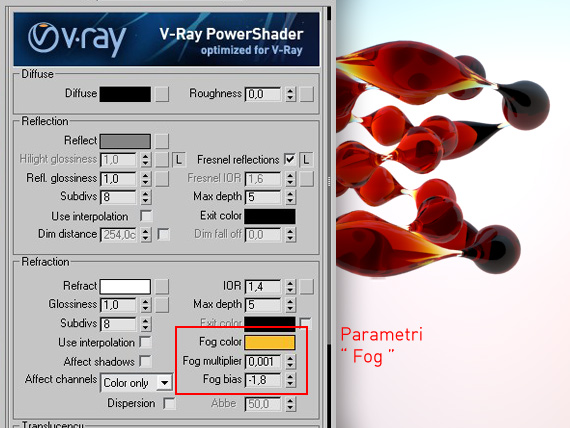 I used the classic V-Ray glass simulation, adding a touch of "
negative fog bias
" .
« Ohh Ciro, wow… it's amazing! But…what does it mean "Negative fog bias" ?! » :-[
Well, a little introduction about general
Fog Color settings
is needed. Fog color is used to simulate colorful refractions, the default value is white (glass = neutral). But if we give a color, the glass will result in color: its color will be in relation to the thickness of the object:
Thin objects will have light and soft colors
Thick objects will have intense and dark colors
Just like the real world.
Here is the effect just for "Fog Color" option:
As you can see, the color intensity changes for
thick
and
thin
areas.
Fog Bias!
This parameter allows you to adjust the contrast for transition thin-thik areas. If you use negative values you can ​​emphasize the effect producing:
darker colors for THICK areas
clearer colors for THIN areas
For this reason negative fog bias must be accompanied by a drammatic reduction of the "Fog multiplier" (0.001) to avoid too dark areas.
Here the parameters I used in the first image:
Fog color
: 236 – 135 – 5 (rgb) / red color
Fog multiplier
: 0,001 / brightens the refraction
Fog Bias
: -1.8 / increase contrast thick-thin
Result:

Choose a color and balance
Multipier Fog
/
Fog Bias
. The reddish color is perfect for "warm glass" , but also with other colors, fun things happen: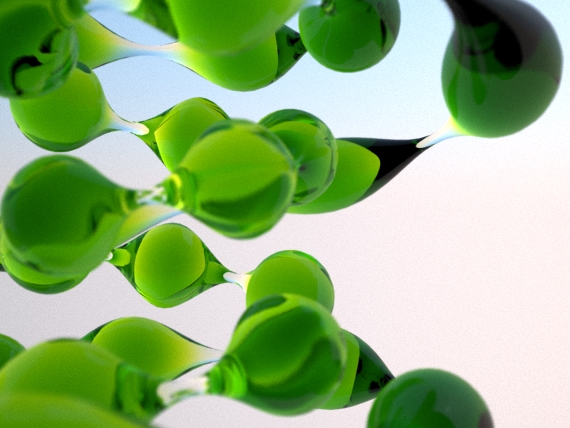 ( Fog Color = 210 – 238 – 54 / RGB)